More than 5 years ago, we chanced upon a post about Langun-Gobingob of what it looks like an underworld fantasy.  The photos captivated our inner adventurous self. And as avid wanderers that we are, we researched all about it, made inquiries and wait for a perfect schedule to do it. It was not until August 2017 that we finally checked it off our bucket list.
Check out our adventure in the Langun-Gobingob in Calbiga, Samar as we explore the biggest cave in the Philippines and considered as the third biggest in Asia. Langun-Gobingob cave tour is actually two different caves connected in one cave system. The vastness of this cave is quite unimaginable as it comprises chambers so massive they resemble coliseums and chandeliers. It requires you 8 to 9 hours of trekking outside and inside the country's biggest cave traversing from Gobingob's cave entrance, exiting Langun's and crossing jungles.
Starting point of the adventure is at Rutchel's Native Chicken Eatery where Joni the cave master met us and had our breakfast. This serves as the meet up point for the joiners to have the registration for the caving permit. Then, off we go for an hour habal-habal ride to our drop off point.
After about an hour hike, we reached the viewing deck of Gobingob cave. A massive cave opening surrounded by thick forest. Gobingob's cave entrance is still half kilometer away from the viewing deck so we continued to hike down.
Before entering the cave, Joni gave a lecture on the the brief caving history in the Philippines, a little more about himself and the important do's and don'ts inside the cave. After that, we geared up as we descended into the underworld.
As we entered the cave, Joni said that every guest should kiss this stone to give reverence as a ritual. Beyond this point is just pure darkness so the only best friend you have is your headlamp and LED lights.
We made our way and passed through some gigantic stalagmites rising from the ground, stalactites hanging from the ceiling and an area called the "the stage".
At around 1pm, we had our lunch prepared by Joni's wife in an area called the Football field. It is said to fit three football fields in that chamber. Have we mentioned it is also prohibited to pee just anywhere in the cave? We kid you not. The only option you have is to pee in a container or you just have to hold it in for the rest of the adventure. Haha. Of course that would be torture, so might as well do it in a container but you also have to carry that same container as you go back to the outside world.
The most thrilling part of this adventure is the vertical cliff descent. This is the part where it gets very technical as we rappelled down a 40-meter wall into the darkness. Joni's and local porters' expertise is very handful for us as they check the ground and set up the ropes for the rappelling. Joni ensured our safety as he supported us from above while another porter supported our every step rappelling down.
Bouldering every step of the way.
Exploring Langun-Gobingob is like exploring another world.
Creepy mysterious but very thrilling and exciting. Filled with garden of stalagmites and stalactites, it will feel like you are transported to an otherworldly terrain.
We crossed rivers of water and mud. Careful! As it gets really slippery or you can get stuck in mud. This is when you will realize a well-conditioned pair of shoes is very important. In fact, the sole of the shoes of Fatima did not make it until the end so one of the porters had to sacrifice his so she can have something on. Commendable Kuya Porter!
Rejoicing as we have seen the first natural light after 5 hours! Let this photo speak for how vast this cave is. Woah!
There's the cave opening of Langun. Alas! What appears to be a small mouth from afar…
Gets bigger…
and bigger as we drew nearer…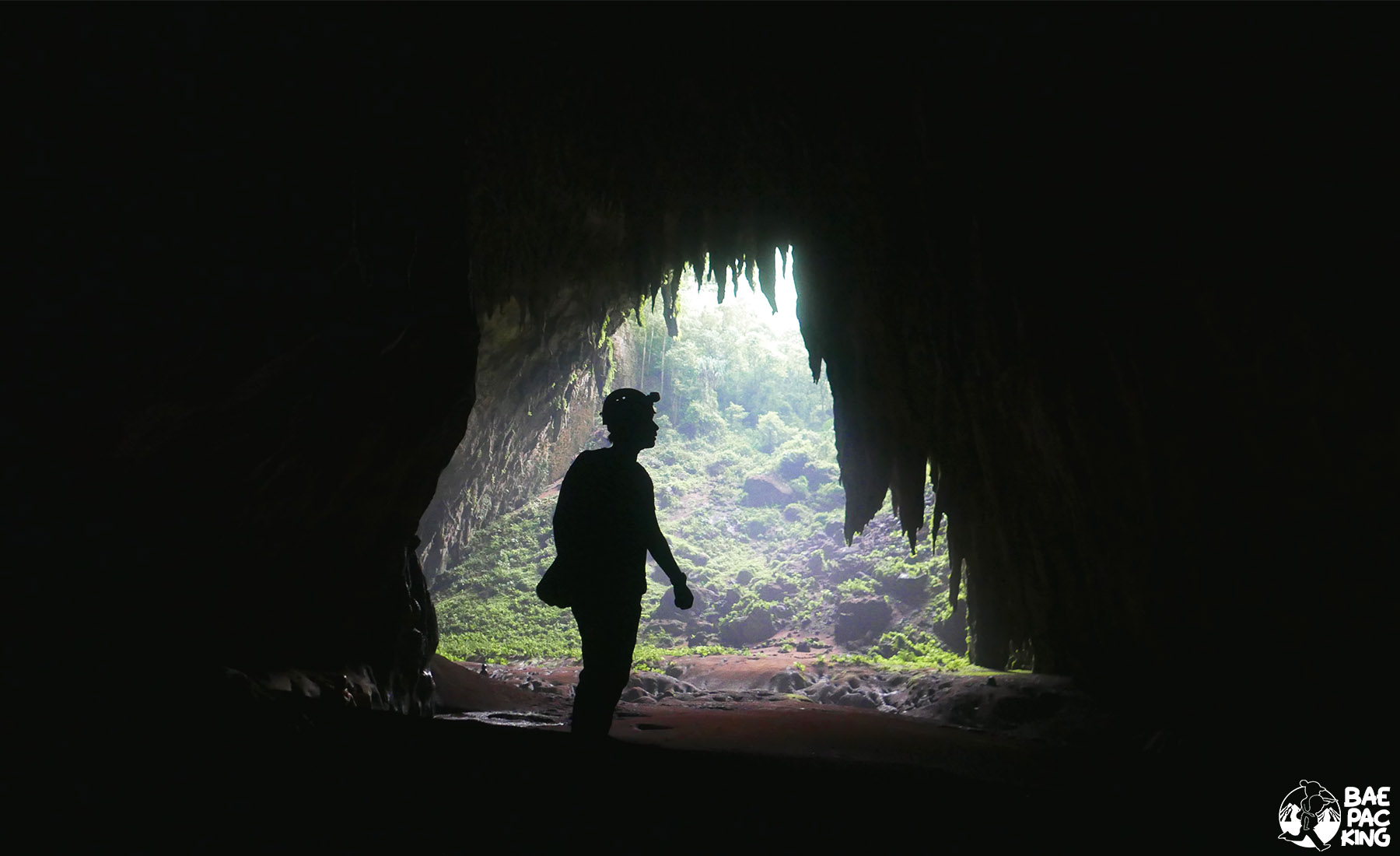 and nearer. It is so huge that we look like ants in this picture. Spot us on the lower left.
We were just in awe how stunning this place is. We can say it looks like a scene from a Jurassic Park movie with dinosaurs coming out any second. lol
We thought we conquered the hardest part already, NA-A , as another challenge has just began. We prepared ourselves for the most grueling part of this adventure-hiking the entire cave- up the mountain top for 3 hours! It was so exhausting that the assault seemed endless! And so we had to take lots of break. It was also nerve-racking since we were literally on the cliff side. One wrong step and we could fall. Yikes.
Yey! We have made it to the golden hour of the day. It was like nature rewarding us with a golden light as we have accomplished conquering the biggest cave in the Philippines! At this point, you can now celebrate because it will just be 15-min downhill from here on until you reach the endpoint at Mapaso Spring where you can wash off and cleanse all the dirt. From here, the motorcycles were waiting to drive us back where we started. At Rutchel's eatery where we had our sumptuous dinner to cap off the day's adrenaline adventure.
A definitely unique kind of experience for thrill-seekers! This is just a one day caving package that Joni offers. If you are feeling more adventurous, you can actually choose an overnight or even days for a full packed adventure that will take you deeper in the underworld and sight creatures that only existed there.  We will definitely be back and explore more of the underworld next time. Big thanks to Joni and kuya porters for this extraordinary experience! Shout out to Faye and new friend Fatima who joined with us and made the trip extra funny and bubbly.
If this article has struck your daring soul, contact Joni to be your cave master:
Trexplore the Adventure with Cave Master Joni A. Bonifacio. Contact Number: +639192943865 (smart)/ +639276750062(globe). Website: www.trexplore.ph, www.trexplore.blogspot.com, www.trexplore.webs.com, www.trexplore.weebly.com
We highly recommend to experience it with Trexplore. You can never go wrong with cave master like Joni who is a professional and equipped with tools and gears necessary for the adventure. Photo documentation is also part of the package so you can just enjoy every step of the way.
How to get there:
From Tacloban Airport, ride a jeepney or tricycle going to the city center of Tacloban. Tell the driver to drop you off at the VS Grand Terminal.
Transfer to a van going to Calbiga and tell your driver to drop you off at Calbiga town center.
Essential tips:
Wear a good pair of shoes, preferably hiking shoes and no open sandals.
Wear only light clothes, be sure to cover your legs.
Bring light jacket, preferably parka or anything that can cover you from the scorching heat of the sun.
Bring at least 2L of water to keep you hydrated.
Bring extra clothes
Take exercise or condition your endurance before going to this battlefield.
For starters, we recommend this Langun-Gobingob package that is worth 3,500php.
It includes the following:
Permits, Caving gear, Transportation , Food (Lunch & Dinner)
Local porters, Trexplore Cave Guide, Photo Documentation, Caving Certificates
– Trekking and Caving adventure
– A minimum of 2 persons are necessary to organize caving trip
– All year round except Bad weather
– From 8 years old and above.
– Physically Fit & Mentally fit
ONE DAY CAVING ITINERARY
8:00 AM Registration & Breakfast at Rachel Eatery in Calbiga, Samar
– Get Permit
– Ride Motorcycle ( Habal-Habal) going Brgy. Panayuran
10:00 AM Arrive Brgy. Panayuran
– Meet local cave guide or porter
– Start trekking, Picture taking viewing deck Gobingob cave entrance
11:00 AM  Arrive Main Entrance Gobingob cave
– Snack, rest
– Preparing Caving equipment's
– Caving orientations
12:00 NN Start caving Gobingob cave
– Trekking , Caving
– Giants Stalagmite & Giants Chandeliers
-Giants flow stone formations ( THE STAGE)
1:00 PM Arrive Gobingob football field
– Lunch time
2:00 PM  Start Descending Vertical area going to Langun Cave
– rock climbing , 40 meters wall climbing
3:00 PM  Arrive Tita Cave
– Giants Chandeliers
-mud trekking
3:30 PM Arrive Langun cave ( THE MOTHER OF ALL CAVE CHAMBER)
– Mud Crater . Bad shit Trekking
– Bat & bird watching
4:00 PM Exit langun cave
– start jungle trekking
6:00 PM Arrive Mapaso Spring
– Bathing and Swimming
6:30 PM Arrive Calbiga town and dinner
If you have any questions, just place it under the comment section and we will get back to you the soonest!